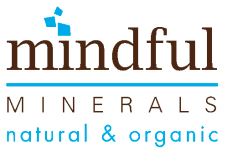 We proudly carry Mindful Minerals products –  salt and mineral based wellness products completely free of harmful chemicals such as parabens, petrochemicals and artificial fragrances.  We selected this product line with great care, based on our personal results and conviction that healthy products can be extremely effective and very affordable.
"Mindful Minerals is not just the next trendy product line with a cool name. Mindful Minerals is about bringing you ecocentric, highly effective products that not only benefit you from the inside out, but do it in a responsible way–responsible for bringing you effective change and improvements to your skin, responsible for ingredients that are safe for your body and the environment and all at an affordable price so that you can act responsibly when caring for your health and your family.  See, at Mindful we believe these precious minerals harvested from the Dead Sea should be shared with everyone and that you should never experience "buyer's remorse" when trying to afford healthy choices for you and your family.
We at Mindful believe beauty comes within and at any age.  We realize that what you put on your skin, goes into your body and what you put into your body should benefit not harm.  This is why all of our products are formulated with the highest quality natural botanicals, fruit extracts and the over 35 minerals and trace elements harvested from the Dead Sea.  These minerals, 12 of which are exclusive only to the Dead Sea, are vital for the optimal functioning of the skin and body, making it a personal care product to be enjoyed daily and to benefit the millions of sufferers of psoriasis, eczema, arthritis and such who may benefit from the minerals found in the Dead Sea.
Mindful Minerals is able to offer products free of synthetic preservatives and additives with its unique process of maintaining purity while naturally preserving products without harmful phthalates, parabens, petro chemicals and artificial fragrance.
Being Mindful is what Mindful Minerals is all about.  As a company we are mindful of everything that goes into our products and what comes out.  From minimal packaging, using recycled paper in packaging and keeping our products affordable we hope to promote mindful living through our products and our actions as a company."